CMCA News From 2014: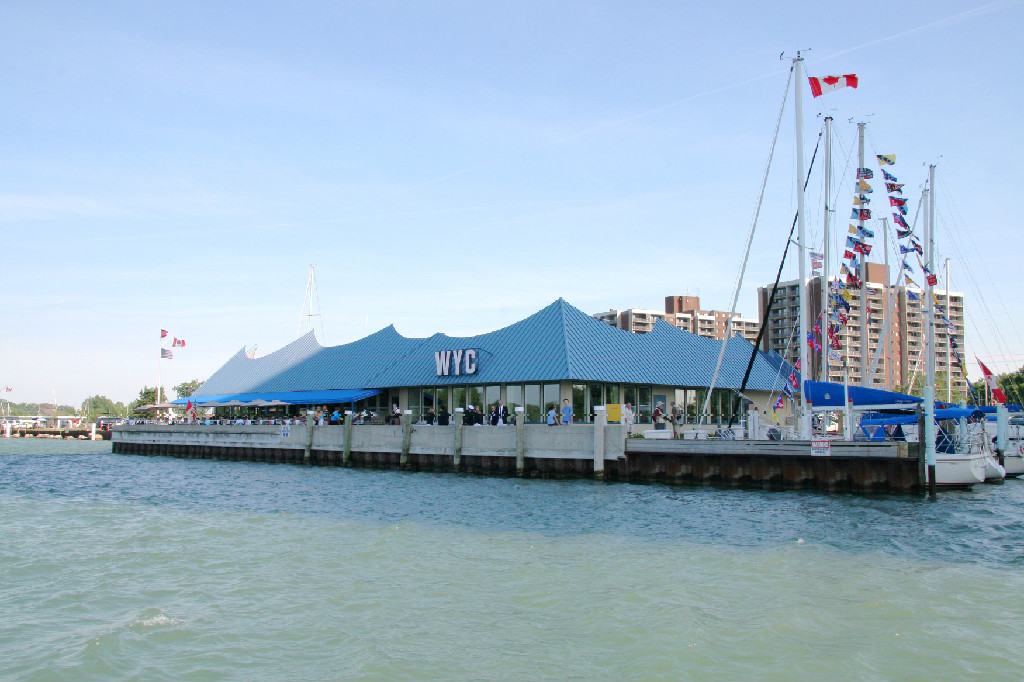 December 29, 2014 – The Minutes of the 2014 International Melges 24 World Council AGM have been published: http://melges24.com/agm2014-minutes.
November 25, 2014 – CMCA AGM chose Windsor Yacht Club to host 2015 Canadian Nationals, scheduled for July 10-12, 2015. Click here for the AGM minutes of meeting.
September 24, 2014 – Dear CMCA Members,
CMCA AGM is planned for November 19, 2014. The current Board of Governors 2 years term is over at the end of the year. Feel free to nominate your candidates to the Board.
The Board of Governors shall consist of each District Governor, the President, the Vice President, the Technical Officer, the Secretary/Treasurer and the Communications Officer.
This is also a time to submit proposals/nominations to the upcoming IMCA AGM. CMCA to submit the proposals until October 10. Please contact CMCA by email: [email protected]
June 17, 2014 – Redpath Toronto Area Hospice Regatta was hosted by National Yacht Club on June 15-16. 8 races have been raced in light winds. Richard Reid and team CAN-629 "Zingara" finished first followed by Dan Berezin – CAN-262 "Surprise" and Dave Black – CAN-121 "Black Dog". Congratulations to the winners!
June 16, 2014 – 2014 Blackline Marine Melges 24 Canadian National Championship completed today in Victoria, BC. Jeff Madrigali at the helm of Kevin Welch's USA-838 "Mikey Black" dominated the regatta with 7 bullets in 9 races. Stig Osterberg – USA-401 "Midsummer" won silver, the bronze went to Deltan Bergan – USA-26 "Brio". The top Canadian team is at 5th place: Fraser McMillan at the helm of Neil Stuart's CAN-151 "Area-151".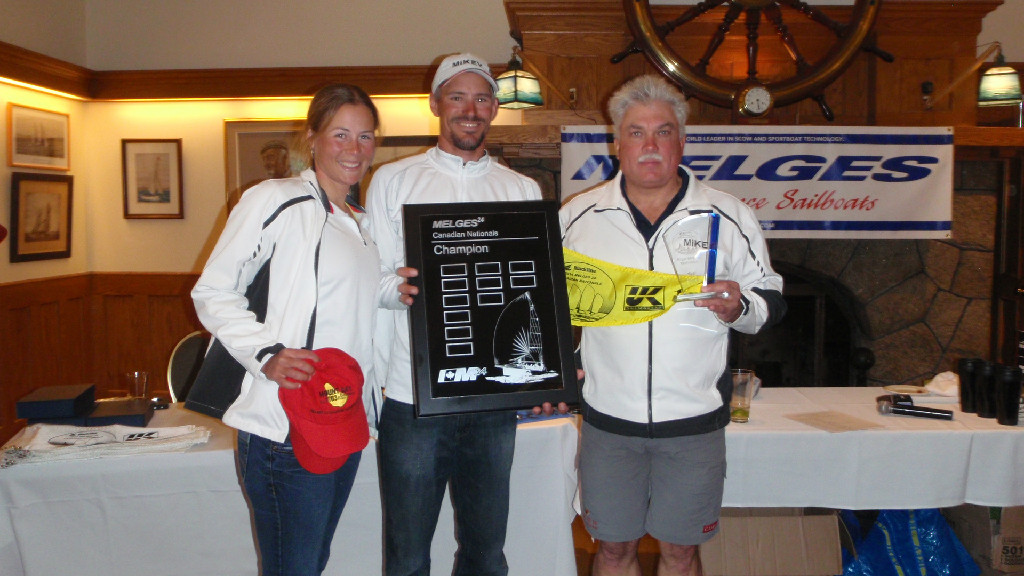 2014 Blackline Marine Canadian Melges 24 Champions, left to right: Joy Sloan, Ian Sloan and Kevin Welch (missing Jeff Madrigali and Bryn Bachman)
Here is a regatta report by Alex Fox, the helmsman of CAN-246 "Gravy":
The 2014 Blackline Marine Melges 24 Canadian Championships was a huge success with 30 boats registered and twenty-nine making it to the start line. The event was hosted by the Royal Victoria Yacht Club and the Canadian Forces Sailing Association (Esquimalt). This partnership has worked extremely well in the past, previously hosting World Championships for the Tasar, Fireball and Thunderbird classes, among other big regattas.
The committee's wish list for a June regatta, included the brisk westerly winds that Victoria is known for……Well let me tell you, The Westerly showed and then some!  Friday started out in 10-15 and by the last leg of race two, boats were skipping downwind at close to 20 knots! The winds continued to puff up to 25-30, exceeding the mandated upper limit and eventually PRO, Paul Ullibari had no choice but to send the fleet ashore. Day one belonged mostly to Kevin Welch's "Mikey (Black)" from Anacortes WA, with Olympic medalist Jeff Madrigali at the helm. They posted a strong 1,2, a foreshadowing of things to come. The other top performer on day one was "Brio" helmed by one-design ace Dalton Bergen, with In- law Carl Buchan calling tactics. The stage was set for some great racing yet to come.
Day two dawned with a slightly lighter forecast and a new spectator vessel on the race course. The USS Nimitz , yes the aircraft carrier, was anchored smack dab in the middle of our race area, yikes! This was not a surprise, as organizers were informed of its arrival in advance. It did however mean the course would have to be set further south and west in order not to infringe on the restricted zone around the giant ship. Race three started in an unassuming 8-10 knots and the first leg provided a minefield of shifts, first the left then the right, then the left coming in big with puffs up to fifteen. The regatta leader rounded just out of the top ten, gybe set, found a great puff down the Albert Head shore and were soon contesting the lead with early leader "Area 151" skippered  by young up and comer, Victoria  Sailmaker Fraser McMillan. This was the shiftiest race of the regatta, with holes and puffs ranging from 5-20. Again, it was Mikey Black at the finish….. Fast and smart! 
Races four through six were sailed in Champaign conditions. 15-25 knots, enough current to make laylines tough to call, yet relatively equal across the course, meaning one side wasn't necessarily always favoured. The flood current however really separated the fleet as boats rounded the weather mark, which was a good thing, as the committee abandoned their attempts to set a reliable offset and gate, due to the water depth, current and big winds. Wipeouts were plenty and boat handling skills and experience were absolutely required for any chance of a top finish.  One crew member went for a swim, but he was soon back onboard to race again. This was one tough, rewarding, punishing, exhilarating, exhausting race day. Guess what?….Four races, four bullets for the "Mikey Black" juggernaut….could anyone challenge their dominance? One day to go!
Day three and can you believe it, the wind forecast is for fifteen building to twenty. Our wise PRO decided that a change of scenery was in order, announcing that the start would be moved southeast along the Victoria waterfront, to an area known as Clover Point. This was an everyone wins scenario; no more "big obstruction" to deal with, spectators were in for a treat and racers would get a different look on the race course. Race one started again in 8-10 knots and an ebb current (with the boats on the upwind) For those not familiar with racing in tidal areas, this meant current against wind and a chop considerably larger than the wind strength might normally merit. The left side of the course came good with "Brio" rounding in first place. For my crew on "Gravy" this was an exciting moment, rounding for the first time in the top group. Strangely the wind receded for the first time in the event, leading to the entire fleet to make a beeline for the shore and current relief. "Brio" continued to sail a masterful race, defending their lead throughout, with regatta second place "Midsummer" helmed by Herb Cole,  slotting into second. This was our regatta highlight, hanging in for third. As we all approached the finish, there was one lonely boat sailing around ….My goodness, It's "Mikey Black", having fallen victim to the black flag at the start! A small sliver of hope for the other contenders perhaps?
Well that may have been wishful thinking, as the wind came back and that was all it took for the string of bullets to continue. "Mikey Black" left no doubt, rolling to two more dominant wins in the 15-20 knot winds. They reacted well to a change in current halfway through race eight, shifting the favour to the right side upwind. They would not be denied. Runner up "Midsummer" posted a string of second places and a score line good enough to win most regattas and "Brio" won the only two races that "Mikey Black" didn't, coming in third and rounding out the podium. "Area 151 was the top Canadian boat , placing fifth in this tough fleet that counted former Olympic, World, North American, National and Regional champions in its ranks. 
This was a fantastic event with perfect conditions,  great socials and prizes, with competitors coming from as far away as Wisconsin. Congratulations to the winners, the organizing clubs and the Northwest Fleet for making the first Canadian Championship a memorable one!

Full results
Photos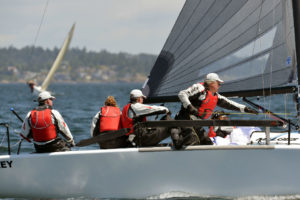 The winners of 2014 Canadian Nationals – team "Mikey Black".
June 14, 2014 – 2014 Canadian Nationals started yesterday in Victoria BC. 30 boats from Canada and USA are racing in a 3 days event. After two races Kevin Welch on USA-838 "Mikey Black" took an early lead posting 1 and 2 finishes. Manfred Schmiedl – USA-26 "Brio" – at second with 6 and 1, followed by Fraser McMillan at the helm of Neil Stuart's CAN-151 "Area 151". The races are scheduled to continue on Saturday and Sunday. Full results: http://www.rvyc.bc.ca/Melges24Canadians2014/results/
June 8, 2014 – 2014 Canadian Forces Sailing Association Regatta completed in Victoria, BC. Seattle's Herb Cole and team "Judo Chop" won with 4 bullets in 9 races. Gordon Shannon, CAN 591 – "Honey Budger" – took silver by tie break with Duncan Stamper's CAN 11 – "Goes to 11" in third. Results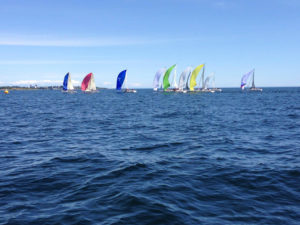 2014 Canadian Forces Sailing Association Regatta
June 6, 2014 – Today is the last day to take advantage of an early bird discount when registering for 2014 Blackline Marine Melges 24 Canadian National Championship! Register on-line at http://www.rvyc.bc.ca/Melges24Canadians2014/ to join 30 boats that already registered for this great event.
April 13, 2014 – Charleston Race Week completed today. Richard Reid and team CAN-629 "Zingara" takes the 6th place in a competitive fleet of 23 boats. Click herefor full results. Photos.
March 15, 2014 – This year Canadian National Championship is coming to the West Coast for the first time. Read the press-release from the Organizing Committee:
Join us for breeze and history at the 2014 Melges 24 Canadian Nationals  (June 13-15).  This regatta is co-hosted by  the Royal Victoria Yacht Club and theCanadian Forces Sailing Association. Racing will take place on Royal Roads, on the edge of the Strait of Juan de Fuca, slightly more than 10 nautical miles from RVYC. (For more details and on-line registration, please visit http://www.rvyc.bc.ca/Melges24Canadians2014/ ).  This is a wonderful opportunity to enjoy beautiful Victoria in its finest season.
Historic Royal Roads, originally named as a naval anchorage, is a large and unobstructed body of water with a prominent southwesterly wind, and Washington State's Olympic Mountains providing a spectacular backdrop to the south. It is considered to be one of the top sailing venues in Canada.  We expect to host 25 Melges teams drawn locally and from throughout the Canadian and U.S. Pacific NW, who will compete in a ten-race series conducted over three days. International Race Officer Paul Ulibarri and his team will manage the course.
The Melges racing fleet will rig and launch at RVYC. Thanks to our good friends at Canadian Forces Sailing Association, boats will  then moor at the CFSA facility, adjacent to the Canadian Forces naval base in Esquimalt for the duration of the regatta. The Royal Roads racing venue is immediately adjacent to the Esquimalt entrance.
Competitors will enjoy a Friday evening BBQ at CFSA, and a Saturday night dinner at RVYC. Haul-out and awards will be at RVYC.  Bus transportation between the clubs will be provided by regatta organizers. Please see our website for further details. Billeting will be provided on a first come-first served basis.
March 9, 2014 – Madrigali/Welch take the win at Bacardi; Richard Reid – CAN-629 – "Zingara", takes the 4th.
February 2, 2014 – The final race of the Worlds was not sailed due to lack of wind. Click here for the final regatta report.
February 1, 2014 – We have a new World Champion! Flavio Favini and SUI-825 "Blu Moon" team secured the overall victory and don't need to sail the last race scheduled for Sunday. The contest for the vice-champion title will be between Harry Melges' USA-841 "Star" team and Bora Gulari's USA-820 "West Marine Rigging/New England Ropes", teams being just one point apart. Chris Larson and CAN-795 "CAVILLINO / MCLUBE" also have slim chances to take the podium spot. Click here for the current results.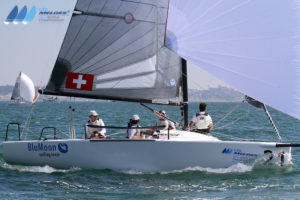 SUI-825 "Blu Moon" – 2014 World Champion.
January 24, 2014 – Quantum Key West Regatta completed today. The Italian team ITA-798 "Little Wing" owned by Nicola Ardito, helmsman Enrico Zennaro,  won the Gold with 9 straight bullets. Thomas Ritter, USA-708 "Tramp" took the Silver and our fellow Canadian Richard Reid, CAN-629 "Zingara" won the Bronze. Congratulations to the winners!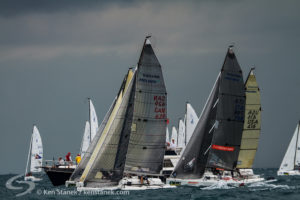 CAN-629 "Zingara" at the start at Key West 2014.
January 16, 2014 – 2014 Melges 24 Canadian Nationals website is up!
This will be held in Victoria, June 12-15. NOR and other details coming soon!
http://www.rvyc.bc.ca/Melges24Canadians2014/