CMCA News From 2015:
December 24, 2015 – CMCA Annual General Meeting took place on December 21, 2015. Click here for the Minutes of Meeting.
December 6, 2015 – 2015 CMCA AGM will take place on December 21 at 7PM EST by Skype conference. The agenda draft can be found here.
November 27, 2015 – Registration is open for 2016 Canadian National Championship!

Marc Noel's Promo Video for 2016 Melges 24 Canadian National Championship
November 15, 2015 – 2016 Canadian Nationals Press Release:
Fastest Sailboats to Race in Kelowna
KELOWNA YACHT CLUB TO HOST MELGES 24 NATIONALS
– Kelowna Yacht Club will host the 2016 Melges 24 Canadian National Championship from June 24-26 in Kelowna, B.C. The special class of boat, a 24-foot light high-performance racer, will be sailed by all competitors in the championships that promises the fastest race speeds seen on Okanagan Lake. "It's a great honour to host this high level event in the spectacular Okanagan Valley and we're looking forward to some intense competition in this unique sailing region," says Marc Noel, vice-president of the Canadian Melges 24 Class Association. Full news release.
October 28, 2015 – 2016 Canadian National Championship will be hosted by Kelowna Yacht Club, on June 24 – 26, 2016. Details to follow. Visit KYC website!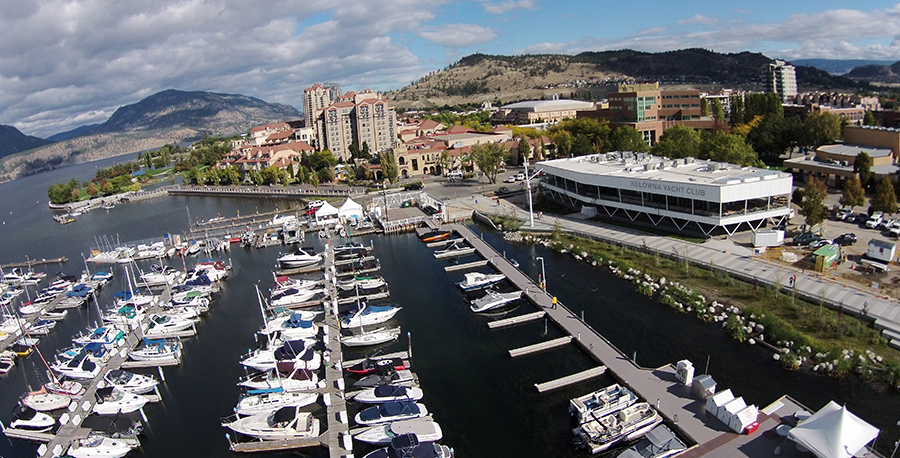 Photo – Kelowna Yacht Club, Okanagan, BC, Canada – Home to upcoming 2016 Melges 24 Nationals Championships
August 17, 2015 – CSR Marine US National Championship Report by Duncan Stamper:
Canada was well represented by a total of seven entries out of a fleet of 36 boats at the 2015 CSR Marine Melges 24 US National Championship raced August 7-9th on the legendary Columbia River Gorge at Cascade Locks. From west to east the following boats made the trip from the Great White North: Swish, Sheva, Goes to Eleven and Lekker from Victoria, Honey Badger representing the Vancouver fleet, Eclipse out of Kelowna and Zingara putting in the longest drive from Toronto.  The regatta was well organized by the USMCA in association with the Columbia Gorge Racing Association, both to be commended on putting on a first class event!  The strength in numbers of boats came from the record 25 Corinthian (non professional) teams that travelled to the event.
As a warm up two Canadian boats, Swish and Goes to Eleven, raced the Columbia Gorge One Design regatta August 1-2.  Predominantly a dinghy regatta, the 16 Melges 24's to make it to the race course were the only keelboat division, but also the largest division in the regatta.  We raced a separate race course east of the dinghies.  Racing typically started in breeze in the mid teens but would build steadily into the mid twenties as the afternoon wore on.  Sunday was really nuking by the end with gusts into the low thirties.  Kevin Welch's Mikey racing out of Anacortes WA ruled the weekend with a clean sweep of seven bullets… so sad to throw out a perfectly good bullet!  Swish put in an awesome and consistent effort to finish a solid fourth, first Corinthian (although not officially recognized this regatta), and Goes to Eleven slipped back a few spots on Sunday to finish eighth.
The highlight of the time between events was the Melges 24 Speed Camp on Wednesday which started with an onshore briefing and Q&A from some of the world's best Melges 24 sailors around… the likes of Andy Burdick, Brian Hutchinson, Jeff Madrigali and Dan Kaseler.  We then hit the water for some starting practice, short races and straight line speed testing with on-the-water coaching from the experts.  The training session wrapped up later with dinner and beer at Thunder Island Brewing Company followed by a debrief, video playback and Q&A session.  It was a wonderful opportunity to step up the game in breeze and so refreshing to see the top teams so willing to share their take on what makes them go so fast.
The main event played out over the next Friday, Saturday and Sunday saw slightly tamer conditions than the CGOD had produced the previous weekend.  The first race on Friday started in 10-12 knots of wind which rose steadily into the mid twenties by the fourth and final race of the day.  Conditions were similar again on Saturday with a little less punch, however the races were long and only three were held before the fleet was sent in for the regatta banquet.  The kegs of Full Sails beer were flowing daily after racing at the CGRA's office and there was plenty of merchandise raffled off as door prizes and silent auction at the banquet.  On the final day as we left the harbour there wasn't a breath of wind and not a ripple on the water.  As we waited for the next few hours, many of us swimming to beat the heat, a small zephyr would roll through ramping up the anticipation of a race only for it to die.  Eventually around 2PM the breeze did fill in solidly to hold one final race, starting in 10-12 knots and building to a nice 15-18.
The top Canadian boat was Honey Badger helmed by Mike Bond finishing an awesome eighth overall and second Corinthian.  Next was Richard Ried racing Zingara in tenth overall, who despite an impressive string of top ten finishes had equipment failures in two of the eight races forcing retirement, one of which they had to count towards their final score.  Fittingly in eleventh overall, and third Corinthian was Goes to Eleven with Duncan Stamper at the helm.  Tied on points with Stamper but ending up twelfth on the tie breaker, and fourth Corinthian, was Gord Galbraith and team aboard Lekker.  Fraser McMillan at the helm of Swish rounded out the fifth place Corinthian and thirteenth overall.  Mark Noel's Eclipse finished 21st overall and 12th Corinthian and Dunnery Best with team Sheva ended the weekend in 30th overall, 20th Corinthian.
Glorious sunny warm weather and fresh water coupled with fantastic reliable big breeze, the Gorge is a sailing Mecca.  For those of you who didn't make it down for this one, make the effort to get down for the next big event there… it is well worth the trip!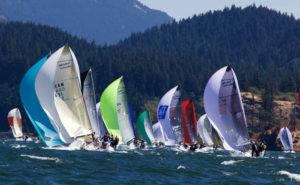 2015 CSR Marine US National Championship,
Columbia Gorge Racing Association, August 07-09, 2015 –
Photo by Sailing Anarchy. More…
July 12, 2015 – Richard Reid and team CAN-629 Zingara win Melges 24 Canadian Championship in Windsor ON.
Richard Reid and his crew from the National Yacht Club in Toronto was crowned the Melges 24 Canadian Champion, after a hard fought 5 race series.  Although the wind did not cooperate on the final day resulting in no races for Sunday , Lake St. Clair provided a steady 6 knot wind for Friday and Saturday with some challenging shifts and currents. Zingara finished the regatta with 1 point lead over Rush owned by Mike Gozzard from Goderich ON.  Rounding out the top three was KC Shannon (Fayetteville GA) on Shaka.  Shaka also was the top Corinthian boat in the regatta.
Windsor Yacht Club and Canadian Melges 24 Class together with headline sponsor of Colchester Ridge Estate Winery were proud to have the help and sponsorship of Mount Gay Rum, Tim Hortons, Dan's Chandlery and North Sails.
Full results.
More photos.
Video.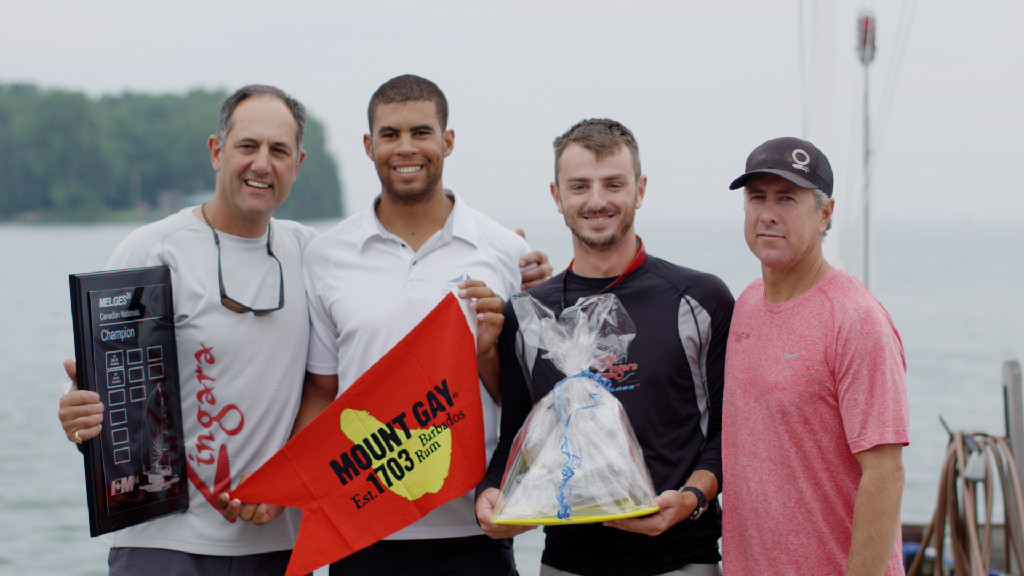 Team CAN-629 Zingara – Malges 24 Canadian National Champions 2015 (left to right): Richards Reid, Greg Douglas, Billy Gooderham and Scott Nixon.
June 14, 2015 – Congratulations to Richard Reid and team CAN-629 Zingara who won Toronto Area Hospice Regatta. The regatta took place in Toronto on June 13 – 14 and saw just one race on the first day due to lack of wind followed by 3 more races on the second day with 6 – 10 knots of breeze and non-stop rain. Full results.
The next big event for the Canadian East District Melges 24s is the Canadian National Championship in Windsor ON on July 10-12. There are 11 boats currently registered and we are hoping for more. To register, click here!
April 22, 2015 – Charleston Race Week saw 21 Melges 24s this year. Bruce Ayres and team USA-747 Monsoon claimed the overall victory while Jens Wathne – NOR-800 Party Girl  won the Corinthian title. The best Canadian entry was Richard Reid on CAN-629 Zingara with the 6th place including impressive win of 2 races on day 2 of the regatta. Full results.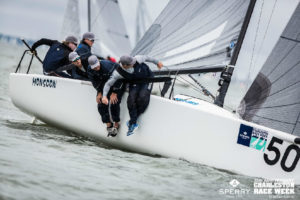 Team USA-747 Monsoon at Charleston Race Week 2015.
March 4, 2015 – The registration for 2015 Canadian Nationals is open now! This year the Nationals will take place in Windsor, Ontario, on July 10 – 12. Register early to help the organizers to make this a great event!
February 15, 2015 – Richard Reid and team CAN 629  – Zingara  – delivered a great performance at Helly Hansen St. Petersburg FL NOOD regatta and won the event! Zingara won 5 out of 10 races including the decisive last race. Full Results. For more photos at PhotoBoat site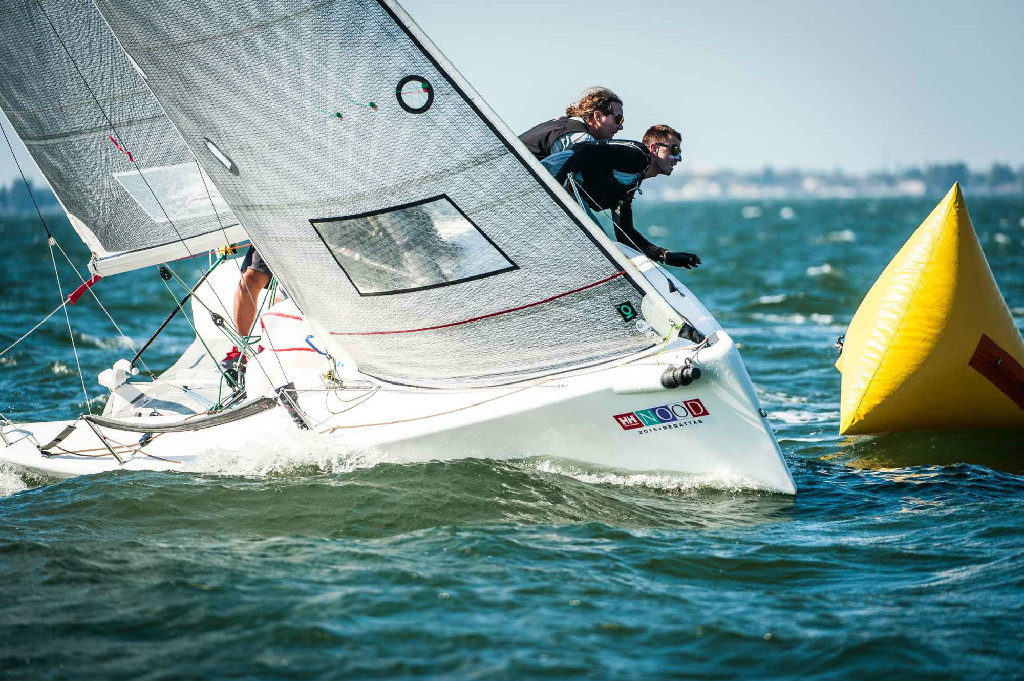 Team CAN-629 Zingara at Helly Hansen St. Petersburg NOOD Regatta
January 24, 2015 – Congratulations to Richard Reid and a team of CAN-629 Zingara with a bronze in Key West! 5 days regatta had a very competitive fleet of 12 boats representing USA, Canada, Norway, Ireland and Germany. Full results.

Quantum Key West Race Week 2015.
January 4, 2015 – The organizers of the 2015 Canadian Nationals are working on lining up event sponsors.  Melges, WEST Marine, APS, Gill, Harken, North and Quantum Sails, and Mount Gay Rum are some of the ones that we have already approached. We have also approached many local Windsor businesses, and have agreements with some. If you know of any other potential (non-Windsor) sponsors that may be interested, please feel free to email us at [email protected]. Thanks!